Laserlite® Multiwall
Smart and Modern Design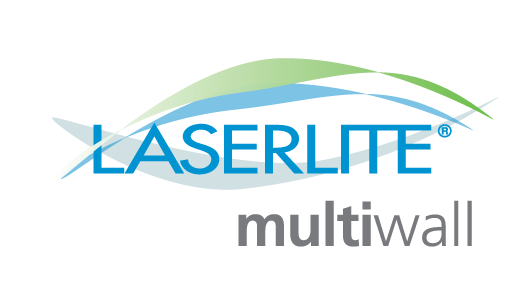 Description
Specification
Warranty
Downloads
Laserlite® Multiwall is a premium polycarbonate sheet, with the most advanced and proven technology to date. Laserlite® Multiwall polycarbonate sheet is an ideal combination, offering a lightweight glazing panel with excellent impact resistance and has an industry leading 15 year warranty against loss of light transmission.
Manufactured by PT Impack Pratama Industri TBK, a global leader in the design and manufacture of thermoformed polymers, Laserlite® Multiwall polycarbonate sheet offers superior clarity, durability and unmatched design flexibility and structural integrity that surpasses other glazing material.
Laserlite® Multiwall is a multiwall hollow structured flat lightweight polycarbonate glazing sheet
Available in 700mm and 1050mm Widths.
Standard Lengths – 700mm: 2.0m, 2.5m, 3.0m, 3.5m, 4.0m, 4.5m, 5.0m, 7.0m
Standard Lengths – 1050mm: 2.0m, 2.5m, 3.0m, 3.5m, 4.0m, 4.5m, 5.0m, 5.5m, 6.0m, 6.5m, 7.0m, 7.5m, 8.0m, 8.5m. 9.0m
Other sizes are available upon request, subjected to minimum order quantity.
Product Option
Offering excellent thermal and acoustical properties as well as being aesthetically pleasing, Laserlite® Multiwall will meet most architectural requirements and is available in a range of colour tint options including: Clear, Bronze, Grey, Platinum and Opal.
Advantages
• Reduces heat without sacrificing light
• Absorbs almost 100% of UV radiation
• 250 times stronger than glass and 20 times stronger than acrylic
• Very light, very strong and virtually unbreakable
• Capable of withstanding temperature fluctuations from -20ºC to 120ºC
• 15 year limited warranty against loss of light transmission
How it Works
Laserlite® Multiwall offers reduced thermal buildup under the sheet as compared to single skin products. Whilst allowing sufficient light transmittance Laserlite® Multiwall should be considered where heat reduction is a design consideration.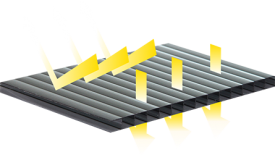 Loss of Light Transmission – 15 Year Warranty 
From initial value within the first 15 years:
‐ The change of the yellowness index (ΔY.I.): ΔY.I. should be less than 15 (ΔY.I. <15) within the first fifteen years. Yellowness index is to be measured in accordance with ASTM D1925 standards.
Weather Breakage – 5 Year Warranty
For a period of 5 years not to break or fracture as a result of the impact of hail measuring up to 25mm in diameter at a
velocity of 21m/s. Damage caused by the impact of objects other than hail is excluded from this warranty.
For Warranty Terms, please download our Warranty Sheet here.